Variety Entertainers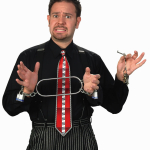 The Variety Entertainers at that we book meet the demands of various events.  Our professional Variety Entertainers will be great choices for you - whether it be for corporate events, a college campus activity, a community festival or county or state fair.
One of our great categories of variety entertainers that we book for corporate events are Comedy Hypnotists.
  A comedy hypnotist show is considered by many to be the "Cadillac" of the variety entertainers category.  These shows are not only funny - but also extremely interactive as your guests can end up being the stars of the show.  We have recruited some of the top comedy hypnotists on the planet today for inclusion into our roster of available hypnotists to choose from.  Click Here to review our Comedy Hypnotists for consideration for your next event.
Everyone likes a great magic show and we have some of the world's best Magicians and Illusionists on our roster of variety
entertainers.  All of our Magicians and Illusionists are at the top of their field and no matter what type of event you're planning - and regardless of budget we can help you find a great magician at a great price.
Another great corporate events entertainment choice to consider is a Mentalist show.  Mentalists are a truly unique type of magician that perform what we like to label psychic or ESP magic.  They are a relatively "new breed" of variety entertainers that have become quite popular for company parties and college campus activities.  These artists will truly "blow your mind" and definitely have you thinking - "There's No Way - How Did He Do That?"
At ProBookings we have tons of great ideas when it comes to variety entertainers for your event.  Below you'll find the types of variety entertainers we book.  Simply click on a link below to be directed to category of live entertainer that suits what you're looking for...
We book the following types of Variety Entertainers...
To follow updates and news on our Variety Entertainers make sure you follow us on Twitter.
To check the availability and pricing of our Variety Entertainers call ProBookings at (608) 526-3829 or fill out the "contact us" form to the right.