Magician Jimmy Fingers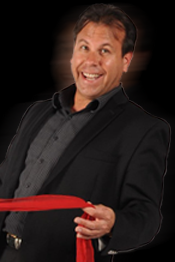 Magician Jimmy Fingers personifies all of the qualities that bring entertainment bursting into the Year 2000... and beyond!!! Magician Jimmy Fingers combines the best of what the live entertainment world has to offer... the class and improvisation of the Rat Pack in the 50's; the skillful mastery of dexterity in Vaudeville at the turn of the century; an edgy consciousness and mind expanding clarity without the shock of obscenity.
Comedy Magician Jimmy Fingers is a hybrid, a blend of the comedian's jarring wit, the magician's subtle timing, the psychic power of a mentalist, the juggler's amazing control... he puts it all together in a one-man variety extravaganza that will create a vivid memory of an event that guests will recall and appreciate long after the smoke has cleared.
They'll see it all... magic, comedy, mentalism, mind-reading, juggling, fire-eating, dexterity, and an unsurpassed timing that can only come from the honed experience of decades, excelling at the live performance art. From Command Performances to Las Vegas showrooms, comedy magician Jimmy Fingers has done it all... Let him help make your next gathering a special one!
Watch Comedy Magician Jimmy Fingers Demo Video...
To check availability and pricing or to book Comedy Magician Jimmy Fingers fill out the contact form or call us at 608-526-3829...