Green Thirteen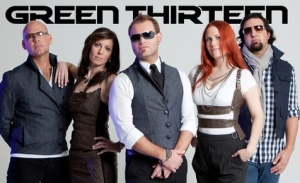 Green Thirteen is one of the top cover bands for corporate events.  From Chicago to Cabo...Hawaii to the BVI, Chicago based Cover Music Band Green Thirteen has been called on to hear the voices of everyone, amplify them and fuel the party of a lifetime...time and time again.
Building the perfect set for every audience and delivering a professional high energy show has become Green Thirteen's signature and the new quality benchmark for live musical entertainment in Chicago, across the country and around the world.
The song list for Green Thirteen contains a seemingly endless group of the most popular music ever released.
What if you could hit "shuffle" on your favorite playlist and have the music come to life right before your eyes.  That's what happens at every single Green Thirteen performance.  A Green Thirteen show is a live, seamless, exciting mix of only the best songs from the most popular artists in every era of modern music.
Green Thirteen performs over a hundred shows every year and uses its experience to stay in touch with every turn and trend in today's popular music scene.  Green Thirteen performs for Corporate Events, Weddings, Nightclubs, Fairs, Festivals and in many other situations.  Beyond the music, they truly care about every concert and event they play and work just as hard off the stage as on it to guarantee an unforgettable experience every time they step up to the microphone.
How can Green Thirteen be so sure they can nail the thrills, excitement and energy of a free fall through the best live soundtrack ever created?  Because it's not about us...it's all about you...
Watch the Demo Video of Green Thirteen...
To book the Cover Band Green Thirteen or to check availability and pricing please call ProBookings at 608-399-4683 or fill out the contact form.
Save