Cirque du Soleil Style Entertainment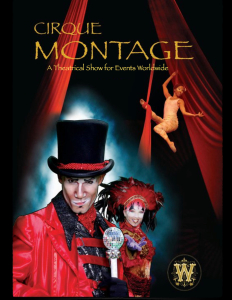 For nearly a decade, Cirque Montague has been providing companies of all types with an exciting Cirque du Soleil style entertainment show of circus daring and skill featuring former Cirque performers from shows such as:  Mystere, O,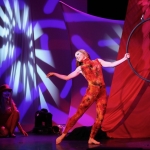 Ka, Saltimbanco, Alegria, and Quidam.
More than 25 world-class performers fill out elite roster as they amaze the corporate clients, private parties, conventions, product launches, award shows and gala dinners.
From intimate affairs to sold-out theaters, this Cirque du Soleil styled entertainment has entertained a variety of guests and clients, including:  Canon, Siemens, Compaq, Deloitte, Bain & Co., Alcatel, Chrysler, Exxon, Bvlgari, Lucent Technologies, and BMG (Grammy Awards Party) among others.
In 2008 they premiered the theater show, CIRQUE MONTAGE, in Los Angeles.  For the first time, general audiences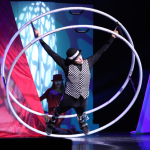 were able to see the acts that the Los Angeles Times called "mind-boggling… that leaves the audience gasping."  Since that time CIRQUE MONTAGE has traveled the world.
The Cirque du Soleil style entertainment show CIRQUE MONTAGE, can be customized for your event.  It's offered as a package show this is adjustable from 20 minutes to up to 2 hours in length.  This is the best and most popular option to fit a variety of budgets.  It will truly be the marquee entertainment of your event.
The shows can easily fit your event as we provide our own setup with no rigging involved.  Our customized Free Standing Pole Unit assembles in minutes to support our Aerialist and Pole Climbing performances up to 20' high and disassembles to easily travel as a baggage check.  These options allow CIRQUE MONTAGE to bring the highest quality show to events and audiences of any size and place.
Journey with us into the creative power of imagination and allow us to invoke an awe-inspiring experience with our Cirque du Soleil style entertainment.
Watch the Demo Video of our Cirque du Soleil style entertainment show - CIRQUE MONTAGE...
---
To book CIRQUE MONTAGE or to check pricing or availability please fill out the contact form or call ProBookings at 608-399-4683.