Cover Music Bands
Local Cover Music Bands for event entertainment... At ProBookings we book some of the top Cover Music Bands available in the country.  Our cover music bands are perfect for corporate events, clubs, weddings, fairs and festivals, college campus events and other parties.
The cover music bands at ProBookings play everything from pop to rock to hip-hop and top 40 hits, to country, rhythm and blues and much more.  Please review our cover music bands roster below, then contact us to help you book the perfect band for your next event.
Currently we book cover music bands nationwide.  Our roster of cover music bands primarily cover the following states,regions, and cities: Chicago, Illinois, St. Louis, Missouri, Minneapolis, MN, Madison and Milwaukee, Wisconsin.  We can book cover music bands for events in any city and state, however we focus our efforts in Illinois, Missouri, Iowa, Wisconsin and Minnesota.
The ProBookings Roster of Cover Music Bands for Pop - Rock - Country - Reggae...
After Party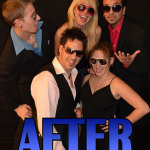 After Party Corporate Cover Band is the Premier top 40 cover band for weddings, corporate events, night clubs and festivals.  After Party delivers a memorable performance that will keep an audience on their feet for hours while they experience youthful energy and an extensive repertoire of songs that range from the best classics of the 60's, 70's, 80's & 90's to the latest Top 40 hits of today! ... Watch Their Video Here.
Stimulus Package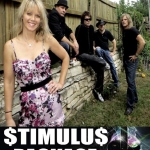 The Stimulus Package... No genre is off limits to the Stimulus Package band, putting a invigorating spin on all the hits- from classic rock to rockin' country & everything in between. A Minnesota based band, $TIMULU$ PACKAGE has performed across the midwest at casinos, weddings, specialty events, fairs and festivals, corporate and clubs... watch their video here.
The Young Guns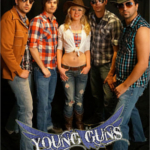 The Country Cover Band  - The Young Guns

shoot for an explosive performance every time by bringing the sounds of Nashville to all parts of the country. This Modern Country Cover Band performs for all types of events.  You'll hear all your favorites from modern country stars to old time classics.

... watch their video here.
Green Thirteen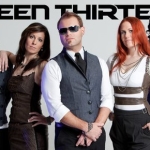 From Chicago to Cabo…Hawaii to the BVI, one of the best Chicago based wedding bands Green Thirteen has been called on to hear the voices of everyone, amplify them and fuel the party of a lifetime.  Delivering a professional high energy show has become Green Thirteen's signature and the new quality benchmark for wedding bands entertainment in Chicago, across the country and around the world... watch their video here...
New York Minute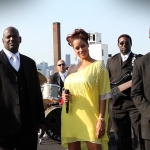 The New York Minute Band is one of the top Corporate Event bands in the Northeast.  The New York Minute Band is perfect for any event and has been providing excellent shows for over 20 years.  The New York Minute Band's reputation is based on professionalism, quality, and a consistency that have set the standard in the industry!... Watch their video here...
The SouthSide Band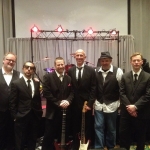 The SouthSide Band is the rock band of choice for corporate and private events. We are seasoned musicians serious about entertaining our audiences with a wide range of great music we all love. The song list is diverse and ever-growing. We are versatile and will accommodate your needs, including adding your personal favorites to the song list that aren't in our catalog (with proper notice). Our catalog covers music from the decades of the 60's through the late 80's and early 90's, while navigating different styles including Classic Rock, Soul/R&B, Disco, Funk, Jazz, Blues and even a little Country. We can soften-up for a cocktail/Jazz Hour, but we can also do an Acoustic Set, depending on the needs of the client. Most of all, we emphasize lively, dance-able music to engage dancers and listeners alike.… watch the SouthSide Band Video Here.
The Breakfast Club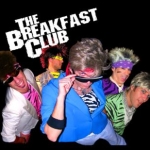 The Breakfast Club is a high energy rock and dance 80s tribute cover music bands, whose every song is a hit that brings the house down with spontaneous, exuberant 'I know this song!' singalongs. Moonwalk down memory lane with The Breakfast Club as they spin you right round to all the radical sounds, styles, and way cool dance steps from the 1980s In over-the-top retro 80s attire. One of a few tribute cover bands to play in 5 markets (Festival, Club, College, Weddings, Corporate). "The Breakfast Club" has quickly become one of the top 80?s tribute cover music  bands… watch the video of The Breakfast Club 80s tribute cover music bands here…
The Shagadelics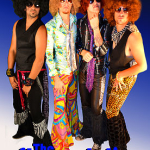 Liven up your Party, Wedding, or Night Club with the only 70s Disco tribute cover music bands that rocks! The Shagadelics will thrill you with their far out dance moves and the funky tunes from the 70s that you will remember for years to come. So don't forget your polyester, platform shoes, and your bling… you'll need it to keep up with these boys!  The Shagadelics 70s tribute cover band sound great – look the look and are guaranteed to make your next party a smashing success!… watch the video of The Shagadelics 70s Disco tribute cover music bands here…
Gizzae - Reggae Band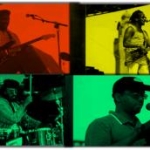 Hailing from the beautiful Caribbean island of Dominica, the Ancient and Holy Lands of Ethiopia, and the Birthplace of Humanity, Ghana, Africa, comes the award winning reggae music of Gizzae.  The reggae band Gizzae have been playing for crowds for over 30 years! Their musical experiences have collectively earned them Grammy® awards, Chicago Music Awards and they have opened for some of the biggest names in Reggae. Gizzae is one of the top cover music bands in the reggae/island genre in the USA. Watch a video of reggae band Gizzae here…
Bickley Rivera - Island Chill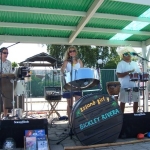 Bickley Rivera's Island Chill Band is quickly capturing global interest since the release of her debut album "Chillin' After Five". She has been performing mostly reggae music, with soca, calypso and more recently developed her unique steelpan Nujazz. Bickley Rivera and Island Chill is also one of the great cover music bands that play island music... Watch a video of The Bickley Island Chill Band…
Sam Fazio and the Sam Fazio Trio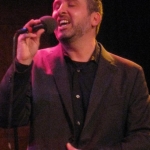 Singer Sam Fazio has been a Star of the Chicago music scene since 2009.  Over the years, Sam has performed in many local night clubs including Boombala, The Roxy, The Raccoon Club, Tommy Gunn's Garage and Catch A Rising Star.  Singer Sam Fazio has spent time performing in Las Vegas at various clubs including Catch A Rising Star and Bally's MGM Grand, as well as working in the studio with the Wayne Newton Band.... Watch a video of Sam Fazio Here…
To keep up to date on our cover music bands - you can follow ProBookings on Twitter.
For help in choosing the best of our cover music bands for your situation, type of show, and location please call us for direct assistance at 608-399-46835 or fill out the contact form.
Save