Singer Sam Fazio and The Sam Fazio Trio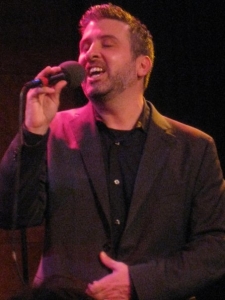 Singer Sam Fazio has been a Star of the Chicago music scene since 2009.  Over the years, Sam has performed in many local night clubs including Boombala, The Roxy, The Raccoon Club, Tommy Gunn's Garage and Catch A Rising Star.  Singer Sam Fazio has spent time performing in Las Vegas at various clubs including Catch A Rising Star and Bally's MGM Grand, as well as working in the studio with the Wayne Newton Band.
Singer Sam Fazio can perform as a soloist or with his trio - The Sam Fazio Trio.  They sing and play a combination of swing, jazz, and pop and are perfect for classy corporate event entertainment and weddings in Chicago as well as nationwide.
Singer Sam Fazio is a graduate of De Paul University's School of Music and continues to train vocally with Janice Pantazelos.  Sam's repertoire includes a unique mix of American standards, swing tunes and pop classics. His heartfelt interpretations showcase his soulful, yet classic style.
Singer Sam Fazio is currently performing weekly in the Coq d'Or at the Drake Hotel, where he has been for over two years.  Sam has performed at many of the prestigious Chicago clubs including Andy's Jazz Club, Jazz Showcase, Katerina's and Maxims.  He has also appeared at many other venues around the Chicago area including the Palm Court at the Drake Hotel, Old Town Brasserie, Hyatt Regency O'Hare, McCormick Place, United Center, Swissotel, Tuscany, City Gate Grille, and Davenport's.  Additionally, Sam performs as a soloist and with the Sam Fazio Trio at many outdoor festivals, private parties, weddings and corporate events in Chicago and nationwide.
What they're saying about Singer Sam Fazio and the Sam Fazio Trio...
"There's a cool and soothing quality in Sam's voice and delivery which are reminiscent of the classic Sinatra at his best."
Rod Marino, Associated Content from Yahoo, Arts & Entertainment
"A singer with a clean, warm voice and attractive delivery, Sam Fazio is not your usual jazz singer, as he blends the type of voice that would sound good on Broadway with an overt Sinatra influence in what is a winning combination."
Brad Walseth, www.jazzchicago.net
"...Fazio's evocative voice, precise phrasing, and almost operatic delivery that nevertheless avoids theatrical excesses. Comparisions can be made with other male vocalists such as Harry Connick Jr., or the quintessential crooner Frank Sinatra but Fazio is very much his own man."   Hrayr Attarian, Chicago Jazz Magazine
 "Smooth is being re-defined. Sam Fazio handles the classics with gentle, respectful care. There's a purity in his voice that puts a wonderful, new spin on songs that you love. "  Dean Richards, Entertainment Reporter/Critic WGN 9 and WGN Radio 720

"Too long away from music, Sam Fazio has returned and what a delight that is. He is a singer of great gifts and sure charm."  Rick Kogan, The Sunday Papers, WGN Radio
Watch the demo video of singer Sam Fazio and the Sam Fazio Trio below...
To check availability and pricing or to book singer Sam Fazio fill out the contact form or call us ProBookings at (608)526-3829.