70s Disco Tribute Band The Shagadelics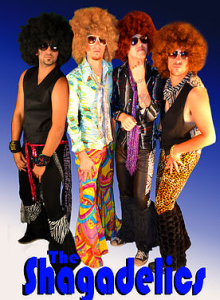 70s Disco Tribute Band The Shagadelics will liven up your Party, Wedding, Corporate Events or Night Club with the only 70s Disco band that rocks!  The 70s Disco Tribute Band The Shagadelics will thrill you with their far out dance moves and the funky tunes from the 70s that you will remember for years to come.  So don't forget your polyester, platform shoes, and your bling... you'll need it to keep up with these boys!
The 70s Disco tribute band - The Shagadelics - are perfect for any type of entertainment venue.  Whether you're planning a company party, a festival, or wedding, they are a great band guaranteed to make your event a smashing success.  Make sure you watch the video below of The Shagadelics - 70s Disco Tribute band, then ProBookings today to book them for your event.
Watch the demo video of the 70s Disco Tribute Band The Shagadelics...
What are people saying about the 70s Disco Tribute Band The Shagadelics?
These guys were FANTASTIC!!! We are already looking at booking them for events this summer and next year! They catered to the audience - and had people up and dancing for 3 straight hours. I recommend them highly! -- Norm J, Okoboji, IA, 4/16/2011
The band was awesome! The Shagadelics were definitely the highlight of our evening's Gala. Great music and performers. Everyone was dancing and having a good time - and we had an age range of 25 to 75 years old in attendance. I would highly recommend the Shagadelics. -- Phil L, Saint Charles, IL, 2/12/2011
Hands down, one of the best bands I have heard in a very, very long time! The Shagadelics were the ultimate disco band for my husband's 40th surprise birthday party and I would hire them again in a heartbeat! I can't tell you how many party guests wanted to know where I discovered this great band and how awesome and entertaining they were. They made the party a success and everyone loved them! The guys in the band were awesome to work with and were willing to accommodate any request or suggestion that was made. Thank you Shagadelics Band for shaking it up and giving one heck of a GROOVY performance! OUTSTANDING!  -- Lila T, Germantown, WI, 12/4/2010
Steve Thanks for a great evening ...the band was awesome...My wife will not forget her 50th bday party ...I bet 20 people asked me where did you get these guys? so hopefully we will see you again at a future party ! Overall value is a 5. You are not going to find a better band to get the party rockin and people o the dance floor.......you guys are the BEST ! Thanks for making our evening unforgettable ! -- Mike K, Elmhurst, IL, 1/14/2012
Keep up to date with all of our Tribute Bands and other entertainers and public speakers for your Corporate Events by following us on Twitter.
To check availability and pricing for booking 70s Disco Tribute Band The Shagadelics, fill out the contact form or call ProBookings now at 1-888-593-2055.
Save