ABBA Tribute Band Absalute Gold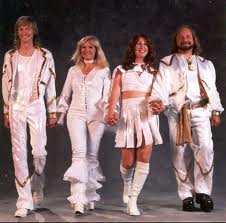 Absalute Gold - The Definitive ABBA Tribute Band Experience - is a completely live, no pre-recorded instrumentation or vocals, re-creation of a live ABBA concert in the late 70's and early 80's. Each player in this ABBA Tribute Band is hand-picked for performance and personality (on and off stage). The costumes are replicas of the most popular ABBA outfits. ABBA details from around the world have been collected for authenticity. A four piece band and two back-up singers join the front four characters to perform the music as you see in ABBA's live concert video footage.
The stage back-drop is an replica of one of ABBA's most famous North American concerts. The show also reveals tidbits of ABBA trivia and history. Admittedly, the choreography is enhanced due to the expectations of today's audiences ... something ABBA would likely have naturally added to suit the times. As well as performing all the ABBA hits, and the more obscure songs upon request, Absalute Gold's high energy show has the audience participating throughout the performance - singing, clapping, swaying, dancing in the aisles, and reminiscing about the days when they sang their favorite ABBA songs for the first time. A great all-ages, family experience.
This is the original Abba Tribute Band that is considered to be the best international performing Abba Tribute.  Corporate Event Planners, Casino Entertainment Directors, Theater Managers and Festival Planners worldwide can attribute to the fact that Absalute Gold has an amazing show and prove it by keeping this Abba Tribute Band one of the busiest on the planet.
Keep up to date with all of our great Tribute Bands by following us on Twitter.
Watch the demo video of the ABBA Tribute Band - Absalute Gold below...
To book ABBA Tribute Band Absalute Gold or to check availability and pricing call ProBookings at 608-399-4683 or fill out the contact form.
Save