Comedian Keith Barany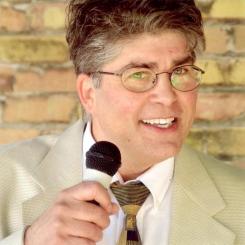 Clean Corporate Comedian Keith Barany's show elicits comments like... "Comedy that's real but not vulgar"..."A fresh, original, brilliant, comic voice"...  The NY Post called Comedian Keith Barany "Possibly, the wittiest comedian working".  His writing is very famous even if he isn't (yet). He helped write the TV shows:  Seinfeld & Politically Incorrect
Clean Corporate Comedian Keith Barany has appeared in such famous casino hotels as The Stardust, Trumps, The Claridge, Excalibur, Caesar's Palace. Tropicana Resorts International - Just to name a few.  He's opened in concert for: Bob Hope, Jerry Seinfeld, Joan Rivers, Ray Romano, Jon Stewart, Joy Behar Lewis Black & Ray Charles - Among others.  Though specializing in corporate & association events, private-club comedy shows & charity fundraisers…
Over the last 2 years Corporate Comedian Keith Barany was asked to entertain US troops overseas.  It went so "badly" the Pentagon ordered him to perform again this coming year!!  Come see what the fuss is all about and watch this video of hilarious and clean, corporate comedian Keith Barany.
Keep up to date with Comedian Keith Barany and all of the ProBookings comedians by following us on Twitter.
Corporate Comedians like Keith Barany are a real hit at banquets, training meetings, and annual seminars and conventions.  They typically offer a break from the norm and allow attendees to experience a stress release which is essential in trying economic times as well as times of prosperity.  At ProBookings we love booking Corporate Comedian Keith Barany with our clients.  We always get positive feedback as Corporate Comedian Keith Barany is hilarious without being offensive - the perfect match for any corporate setting.  If you're planning a corporate banquet, holiday party, annual meeting, or even company picnic - hiring Corporate Comedian Keith Barany is definitely the way to go.
Watch Corporate Comedian Keith Barany's Demo Video...
To book Comedian Keith Barany or to check availability and pricing fill out the contact form or call ProBookings at 608-399-4683.
Save
Save