Jerry Seinfeld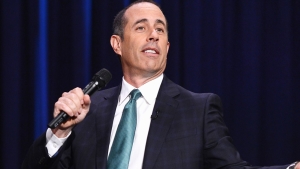 Jerry Seinfeld booking agent, ProBookings can book Jerry Seinfeld for Corporate Events and Private Events.  Jerry Seinfeld, creator, producer and star of his own Emmy and Peabody Award-winning comedy series, Seinfeld, is known worldwide for that success.  He has enjoyed critical acclaim and success as a stand-up comic, TV actor, best-selling author and advertising pitchman.  For his work on Seinfeld, Jerry has received numerous industry honors, among them an Emmy Award as producer of the series, in addition to three nominations in the Best Actor/Comedy category; a Golden Globe Award as Best Actor in a Television Comedy Series; and a Television Critics Award.
Jerry Seinfeld won the American Comedy Award as Funniest Male Performer in a Television Series - Lead and was named Best Lead Actor/Comedy at the American Television Awards.  Based on his comedic observations and stand-up material, Jerry Seinfeld penned the best-seller "Sein Language". With more than 1.2 million copies, it remained on The New York Times Best Seller list for 33 weeks.  If you're wanting to book him for your next event ProBookings - an authorized Jerry Seinfeld booking agent - can make that happen.
Jerry Seinfeld. If you know comedians or great television shows, then you know his name.  The show Seinfeld in the 1990's is one of the funniest and most popular shows to ever hit network television.  At first, the show was not a huge success, but, Jerry Seinfeld and co-writer Larry David, struck gold!  With characters such as George Costanza, Cosmo Kramer and Elaine, Seinfeld was atop television ratings for 9 years.
Jerry Seinfeld is a comedian, actor, and Jewish speaker available for hire through authorized Jerry Seinfeld Booking Agent - ProBookings.
Watch this Video of Jerry Seinfeld's Stand Up...
To Book Jerry Seinfeld for your next Corporate Event contact Jerry Seinfeld Booking Agent ProBookings at 608-399-4683 or fill out the contact form...
*Please note as an authorized Jerry Seinfeld Booking Agent, ProBookings acts only as a broker for private events, performances and speaking engagements.  ProBookings does not claim or represent itself as Jerry Seinfeld's agent, Jerry Seinfeld's manager or Jerry Seinfeld's management company.
Save
Save
Save