Comedy Hypnotist Keir Royale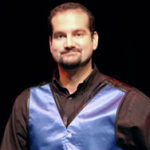 Comedy Hypnotist Keir Royale is one of the premier stage hypnotists in the USA.  Keir's comedy stage hypnosis show will delight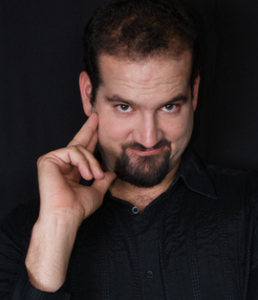 audiences with some of the most hilarious and unbelievable antics you have ever seen. People are fascinated and curious about the art of hypnosis and Keir will give a short presentation about the mysteries surrounding hypnosis before the show begins.
Next a small group of volunteers will assemble on stage and the hypnosis induction will begin.  Soon after, his masterful suggestions will be made and many of the volunteers will be unable to do simple tasks such as remember their own name or to be able to simply stand up out of their chair when asked to do so.  Needless to say - your audiences' minds will be blown at this point.
Comedy Hypnotist Keir Royale makes these willing participants the real "stars" of the show and utilizes his talents as a stage performer to highlight the spontaneous things that people say and do once hypnotized.  The show is 100% clean and tasteful and guaranteed to please.
Keir presented a very entertaining and professional show that left everyone wondering. He was extremely accommodating and interacted with the audience very well. I can't say enough good things about him and I was very pleased to have him entertain our clients. If you want a high class, funny, entertaining evening, then Keir is the one for you. Brian Debrie - Bank of Oklahoma
---
Mr. Royale was very entertaining. We are extremely glad we chose him for our holiday party. His magic was amazing and brought to mind something you would see on TV.  Brad Reader - Clean Harbors, Kimball, NE
---
Sunflower Resort a Cal-Am Property prides itself in providing quality entertainment to our residents and we are happy to include you among our list of top entertainers!  Randi Zeininger - Sunflower Resort, Phoenix, AZ
---
I had the good fortune of having Keir entertain at a recent private party. I must say Keir was extremely professional and easy to work with, his magical style was very playful, humorous, and interactive and involved many participants from the audience as they got to experience magic first hand. My guests are still asking, "Okay, how did he do THAT?" I would highly recommend Keir for an engaging, amazing and memorable magical experience!  Nan Janson - Greenwood Village, CO
Watch Hypnotist Keir Royale's Demo Video Now...
 Contact ProBookings to Book Keir's Show for Your Next Event by Filling Out the Contact Form or by Calling Us at 608-399-4683.
Save
Save
Save