Comedy Hypnotist Larry Silver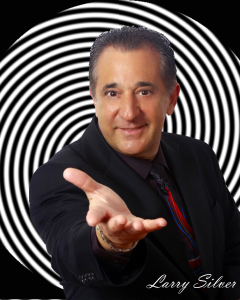 Larry Silver is Not Just Another Comedy HYPNOTIST
This is a real show from beginning to end!
Join me for a "Humorous look into the Myths, Mysteries and Misconceptions surrounding the ancient Art of Hypnotism"
A Fun, Informative and Interactive Experience complete with Audience Participation followed by a Mind-Boggling Hypnosis Presentation.
This is YOUR Chance to become the STAR of the Show!
The "HypnoLarryous" Show is...
Never Offensive or Embarrassing and Always Hysterical. Perfect for "Family Friendly" Theater shows, Fund-Raisers, Corporate, Private Parties, and "Over 55" communities. The "HypnoLarryous" Show can adjust to ALL audiences.
Based in Florida and equally comfortable in Theaters, Resorts, Casinos & Clubhouses...
as well as Comedy Clubs all over the US, Caribbean and Canada, you can relax knowing that your event is being handled by a seasoned Pro with over 25 years in the entertainment industry.
Seasoned Actor, Stand-up Comedian and Master Hypnotist, "Combining the Art of Theater with Improvisational Comedy & Hypnosis";
allowing the Audience to volunteer to become the STARS of the Show.
Watch the Demo Videos of Comedy Hypnotist Larry Silver below...
To Book Larry Silver for your next event fill out the contact form below or call ProBookings at 608-399-4683.