Motivational Public Speaker Barry Alvarez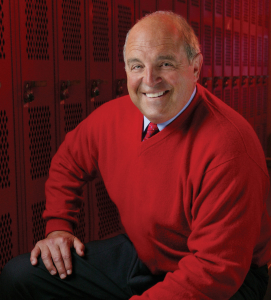 Motivational Public Speaker Barry Alvarez is the current Athletic Director at the University of Wisconsin.  Motivational Public Speaker Barry Alvarez is the first Hispanic Hall of Fame NCAA Football Coach and his amazing story is guaranteed to motivate any audience.  Barry Alvarez is a dynamic and powerful Motivational Public Speaker and is a favorite keynote speaker for Corporate Events.
Wisconsin has enjoyed remarkable success during Alvarez's tenure at the head of the athletic department, winning a combined 12 team national titles and 26 conference regular-season or tournament crowns since he took over.
In Alvarez's six previous seasons as A.D., Wisconsin has finished at least 22nd in the NACDA Director's Cup five times, including a 16th-place finish in 2006-07. That is the second-best finish in school history. Six different teams have won national titles during Alvarez's tenure, including four in the magical 2005-06 season. Nine different teams have been crowned as conference champions, including five in each of the 2005-06, 2006-07 and 2007-08 seasons.
On the academic side, more than 1,000 student-athletes have earned Academic All-Big Ten honors in the last six years. In each of the last two seasons, UW's student-athletes have achieved at least a 3.0 cumulative GPA. And in 2009-10, nine sports either set or tied their highest team grade-point averages for either the fall or spring terms and four had the highest on record for the year.
Motivational Public Speaker Barry Alvarez was appointed in the spring of 2008 as one of the chairs of the NCAA's Football Academic Enhancement Group, which was formed to review and recommend improvements for the APR rating. He also serves on the NCAA Football Issues Committee. In addition, Alvarez was named "Person of the Year" by the Big Ten Club of Southern California in 2008. Alvarez was voted into the state of Wisconsin Athletic Hall of Fame and the Rose Bowl Hall of Fame in 2009 and will be inducted into the UW Athletics Hall of Fame in 2010.
Recently elected to the College Football Hall of Fame, Alvarez guided Wisconsin's football fortunes for 16 seasons (1990-2005). He has been at the forefront of the revival of the Badger athletic program during his entire tenure in Madison. He piloted Wisconsin to three Big Ten and Rose Bowl titles (including back-to-back in 1998-99) en route to becoming the winning-est football coach in school history (118-73-4 record).
Alvarez was just the 10th coach in Big Ten history to win 100 games at one conference institution. His 8-3 (.727) record in bowl games with the Badgers is the best in college football history (among coaches with at least 11 bowl appearances). The 1993 national coach of the year, he was a two-time (1993 and 1998) Big Ten coach of the year and a finalist for ESPN's coach of the decade (1990s) honor. He received the Victor Award's 1999 National Coach of the Year accolade and was the 2004 AFCA Region 3 Coach of the Year.
Alvarez retired from coaching at the conclusion of the 2005 season in order to concentrate solely on running the Division of Intercollegiate Athletics. He has made a lasting impression on the Wisconsin sports scene. His well-documented turnaround of the once-moribund Badger football program has helped to allow the school's entire athletic department to blossom into one of the nation's finest and most respected organizations in college sports.
When Alvarez arrived in Madison in 1990, Wisconsin had compiled a 9-36 record during the previous four seasons and attendance at Camp Randall Stadium had dipped to an average of 41,734 per game (54 percent of capacity). The program sorely needed a boost and got it when new Director of Athletics Pat Richter hired Alvarez from Notre Dame, where he had been an assistant coach under Lou Holtz.
Over the next 16 seasons Alvarez transformed the football program and, subsequently, the culture of athletics at the UW. The success of the football program ignited and heightened interest in Badger sports. Alvarez's list of accomplishments at Wisconsin is remarkable. Consider just a few of the most notable ...
• Winning-est coach in school history (record of 118-73-4, .615)
• Highest bowl winning percentage of all-time (8-3, .727)
• Coached three Big Ten and Rose Bowl champions
• Only Big Ten coach ever to win the Rose Bowl in consecutive seasons
• Just the 10th coach in Big Ten history with 100 victories at one conference institution
• Coached five national award winners, including Ron Dayne (Heisman, Doak Walker, Maxwell), Jamar Fletcher (Jim Thorpe) and Kevin Stemke (Ray Guy)
• guided UW to back-to-back Big Ten titles in 1998 and 1999 (hadn't happened at Wisconsin since 1896-97)
• coached the four of the five winningest teams in school history
• named national coach of the year in 1993; Big Ten Coach of the Year in 1993 and 1998; Victor Award's 1999 National Coach of the Year; and 2004 AFCA Region 3 Coach of the Year.
When Motivational Public Speaker Barry Alvarez speaks... people listen... and more importantly they believe in their ability to win.  Hire Barry Alvarez as a Public Speaker for your next corporate event and he'll have your people believing they can win too!
Motivational Public Speaker Barry Alvarez's Demo Video...
To check availability and pricing or to book Barry Alvarez fill out the contact form or call ProBookings at (608) 526-3829.