Motivational Public Speaker Daniel Rudy Ruettiger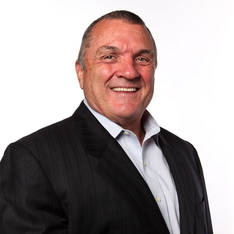 Motivational Public Speaker Daniel Rudy Ruettiger motivates people at Corporate Events worldwide. Book Motivational Public Speaker Daniel Rudy Ruettiger...
Motivational Public Speaker Daniel Rudy Ruettiger - against all odds on a gridiron in South Bend, Indiana, Daniel "Rudy" Ruettiger in twenty seven seconds, carved his name into history books as perhaps the most famous graduate of the University of Notre Dame. The son of an oil refinery worker and third of 14 children, Rudy rose from valleys of discouragement and despair to the pinnacles of success. Today, he is one of the most popular motivational speakers in the United States. It took years of fierce determination to overcome obstacles and criticisms, yet Rudy achieved his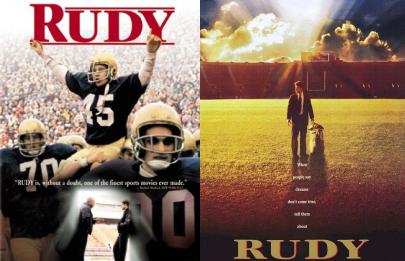 first dream - to attend Notre Dame and play football for the Fighting Irish. As fans cheered RU-DY, RU-DY, he sacked the quarterback in the last 27 seconds of the only play in the only game of his college football career. He is the only player in the school's history to be carried off the field on his teammates' shoulders.
In 1993, TRISTAR Productions immortalized his life story with the blockbuster film, RUDY. Written and produced by Angelo Pizzo and David Anspaugh, the award-winning team who brought us HOOSIERS, the critically acclaimed RUDY received "Two Thumbs Up" from Siskel and Ebert and continues to inspire millions worldwide.
Acclaimed Motivational Speaker with Extensive Media Experience:
Today, a highly sought after motivational speaker, Rudy entertains international corporate audiences with a unique, passionate, and heartfelt style of communicating. He reaches school children, university students, and professional athletes with the same enthusiasm, portraying the human spirit that comes from his personal experiences of adversity and triumph. His captivating personality and powerful message of "YES I CAN" stays with his audiences forever. Rudy shares the speaking platform with great leaders and speakers including President George Bush, First Lady Barbara Bush, Peter Lowe, Joe Montana, General Colin Powell, Christopher Reeve, and Zig Ziglar. Rudy's opening remarks receive thunderous applause and standing ovations from audiences of 200 to 20,000 people who emotionally chant RU-DY, RU-DY! A few of Rudy's media appearances include: People Magazine, Sports Illustrated, US Magazine, Readers Digest, Inside Sports, The 700 Club, NFL Films, CBS Good Morning, ABC Good Morning America, NBC Talk Live, Regis and Kathy Lee, Montel Williams Show, Entertainment Tonight.
Distinguished Author and Humanitarian:
In addition to his motivational speaking, Rudy has co-authored several books, including: RUDY'S INSIGHTS FOR WINNING IN LIFE, RUDY'S LESSONS FOR YOUNG CHAMPIONS, and RUDY & FRIENDS, and has produced the DREAM POWER tape series.
He has recently established the RUDY FOUNDATION, whose mission is to help children of all ages around the world reach their full potential. The Rudy Foundation develops and supports programs that positively impact the lives of children cognitively, emotionally, physically and spiritually. The Rudy Award Program was created by the Rudy Ruettiger Foundation to recognize children who make an outstanding, exceptional effort to do their personal best everyday, overcome obstacles, set goals, stay on track to reach their Dreams and build the qualities of Character, Courage, Contribution, and Commitment into their lives everyday. The Rudy Award is about a child's heart, will to change, and desire for self-improvement. A few of Motivational Public Speaker Daniel Rudy Ruettiger's honors include:
• Honorary Doctorate Degree from Our Lady of Holy Cross College
• The key to numerous cities across the nation along with special proclamations for his inspiration, commitment, and human spirit.
• Honorary assist to the Attorney General of Louisiana
• Distinguished American Award
• Recognition from George W. Bush
• Recognition from the House of Representatives in the state of Texas
• Recognition at the White House
• A Proclamation from the Governor of Nevada granting an Official Rudy Award Day
Motivational Public Speaker Daniel Rudy Ruettiger's Demo Video...
Motivational Public Speaker Daniel Rudy Ruettiger's clients and credits include...
Storage Tek, Lending Tree, Summit Consulting, Bank of America Card Services, GlaxoSmithKline, AXA Insurance, IndusWorld International User Conference, Kings Systems Corporation, Investa Corp, Protective Life Insurance, Utility Safety Conference, Financial Service Centers Cooperative, Inc, BBB Southern Nevada, Synnex Information Tech, Revere Group, Colorado Live Stock Association, Holcim, AICPA, Zilog, Green Brook Pontiac GMC, Lakeside Treatment Center, Traco, Microsoft, Jefferson Chamber of Commerce, Fujitsu Softek, PPG Architectural Industries, American Humantics, American Bankers Association, Network Communications, Laborers Tri-Fund, American Fence Association, Las Vegas Chamber of Commerce, NCR, St.Francis Hospital, Future Farmers of America, Cellular-One, Skill Bosch Power Tools, Glaxo Wellcome, Red Cross, Guardian Savings, Penske Trucking, Whiting-Robertsdale COC, Nationwide Insurance, American Trucker, Aetna, US Healthcare, Kiwanis, Charlotte NC Auto Dealers, Orba Financial, Mid-America Spa & Pool Show, Fibre Tech, Inc., Big Brothers Big Sisters, Accubanc Mortgage, Oklahoma City Men's Club, Vantage Mini Vans, Physicians Mutual, Union Savings, Hollanender Manufacturing, NASA, Steamatic, Inc, McAfee, Lamar COC, LVPD, Michael A. Pollack Investments, Peter Lowe Seminars, Russell Harrington Cutlery, Inc., Betz Paper Chem, Chrystal Cathedral, Safe House, Quorum, Compass Group, The Med Group, Anthem Country Club, Houston County COC, U-Haul, Lake County COC, UPS, American Bankers Insurance, Network Associates, Nevada Power Company, Firstar Mortgage, MCI, Home Base, Tempe Chamber of Commerce, Arnold Schwarzenegger's Inner City Games, Tap Pharmaceuticals, Ohio Hotel Assoc., Weyerhaeuser Mortgage, Lockard & White, American Cancer Society.
To check availability and pricing or to book Motivational Public Speaker Daniel Rudy Ruettiger fill out the contact form or call ProBookings at (608) 526-3829.