Motivational Public Speaker Les Brown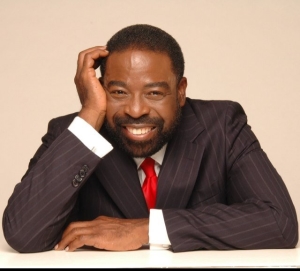 Motivational Public Speaker is one of the World's most well known and loved speaker.  Motivational Public Speaker Les Brown is a top speaker, and Best-Selling Author, loving father and grandfather, whose passion is empowering youth and helping them have a larger vision for their lives.
Motivational Speaker Les Brown's straight-from-the-heart, high-energy, passionate message motivates and engages all audiences to step into their greatness, providing them with the motivation to take the next step toward living their dream.  Les Brown's charisma, warmth and sense of humor have impacted many lives.
Les Brown's life itself is a true testament to the power of positive thinking and the infinite human potential.  Leslie C. Brown was born on February 17, 1945, in an abandoned building on a floor in Liberty City, a low-income section of Miami, Florida, and adopted at six weeks of age by Mrs. Mamie Brown, a 38 year old single woman, cafeteria cook and domestic worker, who had very little education or financial means, but a very big heart and the desire to care for Les Brown and his twin brother, Wesley Brown.  Les Brown calls himself "Mrs. Mamie Brown's Baby Boy" and claims "All that I am and all that I ever hoped to be, I owe to my mother".
In the fifth grade, motivational public speaker Les Brown was mistakenly declared "educ-ably mentally retarded" and placed back in the fourth grade and later failed the eight grade, due to his inattention to school work, his restless energy, and his teachers' failure to recognize his true potential. He was referred to as "D .T." for "Dumb Twin".  The label and stigma severely damaged his self-esteem for many years. Mamie Brown's believe in her son's ability to achieve whatever he set his mind to achieving made a difference in his life.  "Her strength and character are my greatest inspiration, always have been and always will be."
Public Speaker Les Brown's determination and persistence searching for ways to help Mamie Brown overcome poverty and his philosophy "do whatever it takes to achieve success" led him to become a distinguished authority on harnessing human potential and success.  Les Brown's passion to learn and his hunger to realize greatness in himself and others helped him to achieve greatness in spite of not having formal education or training beyond high school.
"My mission is to get a message out that will help people become uncomfortable with their mediocrity.  A lot of people are content with their discontent. I want to be the catalyst that enables them to see themselves having more and achieving more."
Motivational Public Speaker Les Brown's Demo Video...
Motivational Public Speaker Les Brown's credits and clients include...

3M, Avon, Allstate, ReMax, Amway, AT&T, Century 21, Herbalife, IBM, Xango, Novartis, The Washington Post, GE, United States Postal Service, McDonald's, Coldwell Banker, Disney, Xerox, Rust-OLeum, plus many more!...
To check availability and pricing or to book Motivational Public Speaker Les Brown fill out the contact form or call ProBookings at (608) 526-3829.