Motivational Public Speaker Ruben Gonzalez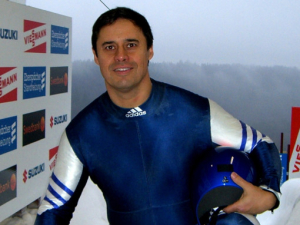 Motivational Public Speaker Ruben Gonzalez is an expert on creating desired results...fast.  Organizations use Motivational Public Speaker Ruben Gonzalez's strategies to get their people to achieve more than ever before.
At the age of 21, Motivational Public Speaker Ruben Gonzalez, decided to compete in the Olympics, took up the sport of luge, and 4 years later was racing for the Gold against the best in the world.  Using his strategy for creating fast results, he soon became a bestselling author, business consultant and speaker, helping corporations and associations around the world create and sustain business growth...fast.  He combined his success in business and in the Olympics to create time-tested techniques to excel in these challenging times - to become unstoppable.  Ruben competed in four Winter Olympics in four different decades. And he's still competing - at 47, he's the oldest luge competitor in the World Cup Circuit.  Because of his powerfully inspiring story, Ruben was selected to carry the Olympic Torch at the Salt Lake City Olympics.
Motivational Public Speaker Ruben Gonzalez co-stars in the movie "Pass It On" where he was asked to share his insights on what it really takes to succeed at work and in life.  He's the associate producer for the Napoleon Hill Foundation's movie about perseverance, "Three Feet from Gold." Olympic Motivational Speaker Ruben Gonzalez is a frequent TV and radio guest.  His column "High Achievement" appears in major publications around the world. He delivers over 90 presentations a year to organizations and corporations around the globe about commitment to excellence, overcoming challenges, and taking bold action to create long lasting success.  Ruben's motivational speaker event will inspire and equip your people to achieve more than ever before.
Watch the demo video of Motivational Public Speaker Ruben Gonzalez here...

Motivational Public Speaker Ruben Gonzalez's credits and clients include...

Xerox, Coca-Cola, Oracle, Chevrolet, Dell Computers, Million Dollar Round Table, New York Life, Allstate, American Women's Business Assn., American Express Financial Services, Marriott Hotels, Novo Nordisk Pharmaceuticals, Hilton Hotels, AstraZeneca Pharmaceutical Co., Wells Fargo Bank, Deloitte, Minolta, Sodexo, ERA Realtors, Pella Windows, Johnson & Johnson, Blue Cross Blue Shield, Bax Schenker Shipping, Express Employment Pros, Shell Oil, Amway Global, Pella Windows, Orange Telecommunications, Continental Airlines, ConocoPhillips, Hearst Newspapers, Ortho McNeal Pharmaceuticals, TTI, Inc. (A division of Berkshire Hathaway), Radisson Hotels, Luhrs Boats, Cardinal Health Care, Parkview Health System, Administaff, State Farm Insurance, Royce Builders, United States Treasury Department, United States Army, University of Houston, University of St. Thomas, Wheaton University, Texas A&M University, Pan American University, University of Northern Iowa, Government Finance Assn of Texas, American Assn. of Airport Executives, Association of Health Underwriters, American Women's Society of CPA's, Life and Health Underwriters Administrators Assn., Healthcare Financial Management Association, just to name a few!...
To check availability and pricing or to book Motivational Public Speaker Ruben Gonzalez fill out the contact form or call ProBookings at (608) 526-3829.