Magician Chris Johnson - Murder by Magic Show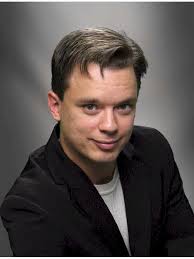 Magician Chris Johnson presents the Murder by Magic Show... During Magician Chris Johnson's "Murder by Magic," a stage entertainer is introduced... but he fails to show. 
A "psychic investigator" interrupts the proceedings and reveals that "something terrible" has happened to the entertainer... and that foul play is suspected - and the killer is one of the guests in the room!
By participating in exciting mind reading demonstrations, guests will help solve the mystery of who killed the entertainer by revealing the time of death, the murder weapon and much more.
Magician Chris Johnson is a favored corporate event entertainer and his show is thrilling, mysterious and a lot of fun for any audience.
During Magician Chris Johnson's Murder By Magic show, your guests will:
Laugh hysterically as Cris' "Mind Reading Raccoon" reads guests' minds

Clap and cheer as someone from YOUR group is revealed as the criminal mastermind!

Gasp in amazement as Cris is blindfolded and reads guests' minds... telling them what they're picturing in their minds!

Sit on the edge of their seats as one guest signs a paintball, shoots it at Cris... and Cris catches it in his TEETH!

Drop their jaws in unison as a sealed envelope (handed out at the beginning) predicts EVERYTHING that happens during the ENTIRE show!

Witness objects in the room move by themselves!

and much, much, more...
PLEASE NOTE:  After witnessing these unbelievable feats, some clients insist that we "set up" some of their co-workers to "play along."  Not true!  We 100% guarantee that no one is "in on it"... and he'll pay $10,000 to anyone who proves otherwise!
You can follow Magician Chris Johnson via ProBookings on Twitter.
Watch Magician Chris Johnson's Demo Video...
To check availability and pricing or to book Magician Chris Johnson fill out the contact form or call us at 608-399-4683...