Comedy Magician Gayle Becwar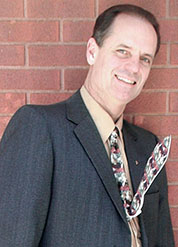 Comedy Magician Gayle Becwar's first introduction to entertainment came as a child in 1967, performing with his family's traveling magic show. In 1985, Magician Gayle Becwar began presenting his clean, interactive, fast-paced magic and comedy act as a full-time solo professional. Audiences from New York to LA and Hong Kong, China to Cancun, Mexico,
will attest that his act is truly unique and entertaining. Comedy magician Gayle Becwar has shared the stage with country singer Dan Seals, comic/actor Damon Wayans, the musical group Frankie Valli & the Four Seasons, and worked a series of shows with legend comedienne Phyllis Diller.
Comedy Magician Gayle Becwar recently taped for HBO's Comic Relief and for Showtime's Funniest Man in America Contest, where he scored big to thundering applause. Magician Gayle Becwar's quick wit, sharp memory, and likable ad-libbing style full of audience participation, makes each of his performances special and exciting. His college degree in Broadcasting contributes to his professionalism, as well as a warm and engaging rapport. From comedy clubs, colleges, and state fairs to banquets, conventions, and trade shows, Becwar's magic, mind-reading, and humor involves all types of people. Your audience will be no exception. The Associated Press said it best: "More than just a magician, magician Gayle Becwar is a complete entertainer.
Watch Corporate Comedy Magician Gayle Becwar's Demo Video...
Comedy Magician Gayle Becwar's Credits and Clients Include...

Comedy Clubs and Casinos...
Kowloon Hotel - China, Froggy Bottoms - TX, Cancun Comedy Club - Mexico, Pepperoni's - IA, Witts End - CO, Filley's Hilton Inn - SD, Laffs Comedy Caffe - AZ & NM, Tulsa Comedy Club - OK, Lodge Four Seasons - MO, Long Branch Casino - CO, Noodles Comedy Club - NE, Copper Penny - MO, Hilton Comedy Club - TX, Bushwackers - KS, Jokers Comedy Club - NE, Harvey's Casino - IA, Gold Dust Casino - SD, Good Humor Bar - TX, Funny Bone - NE, Penquins Comedy Club - IA, Ameristar Casino - IA.
Colleges...
University of Nebraska, Northwest MO State, Emporia State University, University of Texas, Graceland College, Morningside College, Union College, Minot State University, Labette Community College, Chadron State College, Rockford College, Rock Valley College, Northern University, University of South Dakota, Pittsburg State University, Texas A & M University, Doane College, Hastings College, Wayne State College.
"Everyone raved about you at work the next day and asked when we could have you back again. You were a smash!" Pam Thompson, LI-COR Biotechnology
"I was deluged the following day with requests for your phone number, and I personally got a credibility boost for booking you!"
Shelly Sahling, Nebraska Power Association
"Just saying THANK YOU does not seem to say enough for the great performance you gave our group. I thought your performance this year was better then the last time we say you perform for us, if that can be possible." Joyce Clayton, Koch Agri Service
"I cannot begin to tell you haw many people who were in the audience expressed to me their amazement and their compliments. Your show captured their attention at the outset and kept them involved from start to finish. This is not an easy task no matter who the audience may be, but you were able to do so." Marshall Tofte, Nebraska Association of County Officials
"Excellent…Your Energy left the entire room exhilarated. As program chairman, you made me look very good. Todd Claussen, Nebraska Independent Crop Consultants". Todd Claussen, Nebraska Independent Crop Consultants
"Thank you for all the nice shows you did with your magic. Everyone enjoyed it very much. You are excellent. It has been a great pleasure having you on our cruise. I look forward to having you aboard the TRIUMPH again." Flotta Roberto, Senior Captain, Carnival Triumph Cruise Ship
To check availability and pricing or to book Comedy Magician Gayle Becwar fill out the contact form or call us at (608) 526-3829...