Magician Reza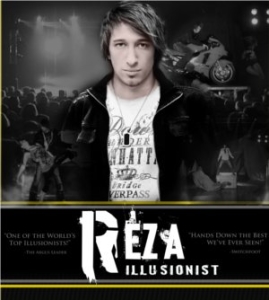 World Famous Magician Reza has risen to the rank of elite world-wide entertainment superstar.  Magician Reza is performing weekly to sold out audiences in the USA and Internationally.  If you're looking for a world-class Magic and Illusion show for your corporate event or theater show - Reza is the one to book.
Reza made his presence felt in the world of illusion since a very young age.  Magician Reza's focus in the art began at the age of 7 with his humble birthday party beginnings in his hometown of Brookings, South Dakota.
By the age of fourteen,  Reza was landing significant shows performing for resorts and large corporations.  On his fifteenth birthday Reza left his hometown to perform a 6 week run in Branson, MO, the live entertainment capitol of the world.  He used the grueling eighteen-show-a-week schedule to hone his gift for entertaining.  After Branson, one opportunity led into the next and as the doors began to open, Reza's style took on a fresh and cutting edge feel.  With a largely original show and an appealing stage presence, Reza began selling out theaters as the entertainment world took notice.
Fast forward to present day with Reza.  The once youth magician prodigy is today one of the fastest rising stars in the industry, with his mind set on changing the world's perception of magic.  You've probably seen famous magician Reza and his crew touring around the country in their tour bus performing at different cities all over the US.  Considered by many to be more cutting edge than Chris Angel and even David Copperfield, Magician Reza has a mind blowing and extremely entertaining magic illusion stage show.
Don't expect rabbits out of hats.  Reza and his current self-titled tour transports 15,000 lbs of lighting and sound melded with some of the most incredible magic in existence today; including Reza's signature split-second appearance of a revving motorcycle, passing himself though 300lbs of diamond plate steel, vanishing a beautiful assistant at the tip of razor sharp spikes, and even the one-in-a-billion prediction made a year in advance about the thoughts of randomly selected audience members.   Reza's magic has taken him across the country, selling out theaters from Denver to New York, Orlando to LA. In addition to Reza's own tour dates, he is also currently headlining "MASTERS OF MAGIC," playing in theaters and arenas across the country starring magician Reza, along with a rotating cast of performers direct from television shows such as America's Got Talent, Oprah, and Masters of Illusion. (The Show is produced by Jack Stephens, whose tour credits include: Annie, RENT & Sweeney Todd)

Magician Reza is intriguing, engaging, and captivating.  He has the ability to connect with his audiences and let them feel his magic on a personal level.  He isn't just a magician.  He is an entertainer.
Watch the demo video of Magician Reza...
To check availability and pricing for booking Magician Reza, fill out the contact form or call ProBookings at 608-399-4683...