Magician Robert Strong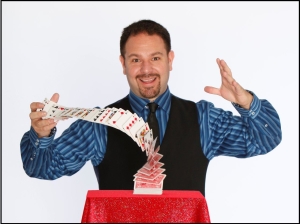 Magician Robert Strong is the perfect entertainment for your next event. Magician Robert Strong captivates his audiences with amazing magic, breathtaking juggling and outrageous comedy. Since 1985 he has performed in 17 countries, on national TV and twice at the White House. He was recently voted San Francisco's funniest prop comic.
Robert Strong's specialty is corporate shows. His show is geared for adults and the humor is corporate clean. Every show is interactive and the humor is derived from working with your guests. Robert makes your guests look great by making them the star of the show. This makes your event even more memorable.
Magician Robert Strong has done tens of thousands of shows and can not only improvise and go off-script, but he can also include your special themes and messages into his show. The show is typically between 45 minutes to one hour, but he can create a performance that is any length.
Robert's show includes the comedy and magic, but also has some surprises in it. He throws in the occasional escape, pick-pocketing, juggling, and mind reading routine which keeps your audience on the edge of their seats. Make your events extraordinary by inviting Robert Strong to entertain your audience!
"Captivating" - The L.A. Comedy Festival.
"Robert Strong is an edgy comedy magician who has appeared all over the world and is one of the most popular performers working" - I Love Vegas, The complete visitor guide.
"Outrageous!" - The Washington Post
"Best bet!" - The Baltimore Sun
"This world-class entertainer will be back for his fifth smash year. Roberts show is laugh out loud entertainment that is great for the entire family. He is simply captivating!" - The Smithsonian.
Watch Magician Robert Strong's Demo Video
To check availability and pricing or to book Magician Robert Strong fill out the contact form or call us at 608-399-4683...