Mentalist Brent Webb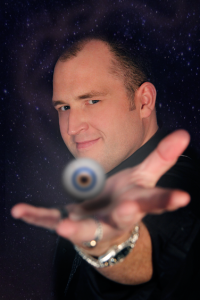 Mentalist Brent Webb will astound you...  It's just that simple.  Mentalist Brent Webb will amaze you and make you laugh. Using what he calls "heightened sensory perception", he will know what's on your mind BEFORE you do.  He will predict your actions with uncanny accuracy.....
He hears with your ears!  He sees with your eyes!  He thinks with your mind!
Brent Webb has performed his fast paced mentalism show around the globe, from extended engagements at Las Vegas' legendary Desert Inn Resort, to The Scalia Theater in Madrid, Spain to The Regency Theater in the Bahamas, and one thing is certain...... Brent's show is one your guests will remember forever!
Brent Webb has appeared with celebrities such as Don Rickles, Dionne Warwick, Chaka Khan, and more.  He has also worked his unique brand of "mind magic" for such luminaries as Johnny Carson, Shania Twain, Paul Anka, and Jessica Simpson.
Find out why so many event planners, corporations, colleges, and resorts rely on Mentalist Brent Webb to create an unforgettable experience. Brent offers a first class presentation that engages the entire audience, can be performed almost anywhere, is completely self contained, and is truly astounding.
Whether it's a grand stage or ballroom floor, Brent's flexibility and versatility will make your next event a huge success.
You can follow ProBookings on Twitter to keep up to date with Brent Webb and all our entertainers.
Mentalist Brent Webb's Demo Video...
To check availability and pricing or to book Mentalist Brent Webb fill out the contact form or call us at 608-399-4683...

Save
Save